AFFORDABLE

PRICES

FRIENDLY

& TIDY

WORK

GUARANTEED

LATEST

TECHNOLOGY

IS THERE AN OLD, DECREPIT WOODEN FLOOR IN YOUR MITCHAM HOME OR BUSINESS THAT YOU WANT TO SEE RESTORED TO BRILLIANT NEW LIFE?
Then it's high time you called on the services of the premier wood floor sanding company in CR4 Mitcham.
The Mitcham floor sanding experts are masters at completely transforming your wooden flooring, whatever its state may be. We provide all sorts of homes and businesses right across the region with a friendly, cost-effective and efficient wood floor sanding and finishing service. Our dust-free sanding equipment and range of eco-friendly stains and varnishes provide the best results possible every time. With 20 years experience of wood floor sanding and renovation in Mitcham, we have the skills and expertise needed to completely refresh and transform your flooring whatever its condition.
PROMISES, PROMISES
​

But even two decades of experience isn't enough, and we know that to our customers we're only as good as our last job. So we go out of our way to make every job perfect, no matter how big or small, and we're constantly striving to improve the whole range of services we offer. We're also members of:
​· The Federation of Small Businesses
· The Guild of Master Craftsmen
· The National Wood Floor Association
· A Junckers Approved Maintenance Contractor
​
For even more peace of mind, we carry £5million of insurance cover. Check out some customer Testimonials to get a better idea of how our services are seen by the people of Mitcham.
​​PATCHY PARQUET TO CONFERENCE HALLS
From small areas of antique parquet flooring that need a light sanding to bring them back to life, to conference hall floorboards that require a complete restoration, we're used to it all. It doesn't matter how small or large your needs are because we bring the same tools and dedication to all your floor restoration requirements in Mitcham.
Start with an easily arranged free on-site assessment and get your free cleaning kit at the end of the work to keep your new natural wood floor looking fabulous.
Contact us today at the Mitcham floor sanding experts to get the ball rolling and have all your questions concerning wood floor renovation in Mitcham answered.
Latest News, Recommended Articles & Tips
Creating the floor of your dreams with the right finish
Different finishes give wooden floors different looks. If you know which finish you need to use, you can achieve any effect you want. Whether you want your wood floor to have a natural look, a slick modern aesthetic or a warm, mellow appearance, you simply have to choose the right type of product to apply to the floorboards. In today's blog, we'll explore the best finishes to use to achieve different effects.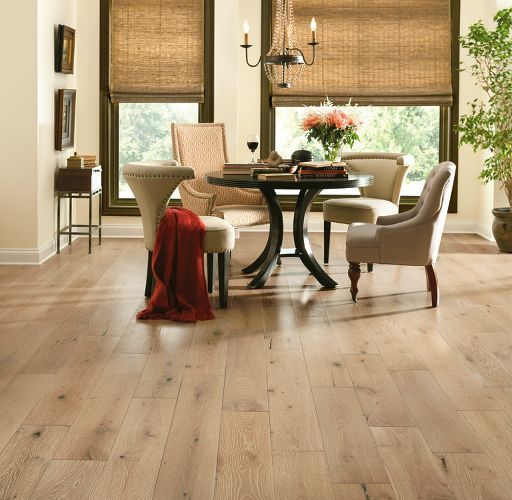 1. A sleek, silky finish

Many people want to give their wood floor a silky, highly polished look because it gives the traditional material a modern twist. Lacquers are the best way to create this effect. Unlike oils and other finishes, they sit on top of the wood and give it a subtle, sophisticated shine. You can achieve a similar effect with regular polishing, but lacquers offer a more permanent effect.

2. A naturalistic finish

Do you want to give your wooden floor a smooth yet natural look? If so, we recommend using oils. Oils enter the grain of a wooden floor's boards and integrate seamlessly in order to change the wood's look. Because oils work with the wood internally instead of forming a completely separate layer like lacquers, they create a much more naturalistic look. Nevertheless, the effect they produce is still refined and sophisticated.
3. A mellow glow

If you want to give your floor a warm, friendly shine, we suggest using wax. Because wax is a natural material, it can give your wood a soft, almost luminous quality without making it look artificial.



4. Colour alteration

You may be interested in preserving your wooden floor's current overall look but altering its colour. The best way to do this is by applying stains. Stains are designed to alter the hue of a wooden floor without giving it a specific finish.

Whatever type of effect you want to achieve with your wooden floor, we can help. In addition to floor sanding, we also offer waxing, staining, oiling and lacquering services. If you'd like to know more about changing the appearance of your wooden floor, get in touch with us today. We'd love to hear from you.
For Fascinating Wooden Floors Call 020 3151 9073​ Now